POSTURE CHALLENGE:
For 90 days I want you to do one, some, or all of these movements, and add in every body supportive element you can.
SITTING
- Lumbar support. Sit up and put a pillow behind your lower back.
- choose a seat that is going to allow your body to have firm rather than soft for 90 days while you train your brain and body.
3. For good posture and sitting and core health sit on a yoga ball. Check them out here.
4. For good stretching- make a point to lengthen your body and sit on the floor as much as possible, using your legs to make a triangle and putting your hands on your knees, and as time goes on reaching for your feet. Once you reach your feet, the next goal is to reach forward in the center and have your elbows on the floor. (I am working on reaching my feet! Knees are okay! Everyone is different. It may take you a year to reach your knees. THAT IS OKAY! It's about the stretching, not the reach. Gentle. Slow. Easy. Blood flow. Body connection.)
5. For good pregnancy posture and baby positioning, and also any time (not pregnant), practice leaning forward in a chair, or sitting forward on the couch. Spread your legs apart making a triangle and lean forward. Practice leaning forward over a countertop, instead of leaning back into a squishy couch. This bum out lean forward position is optimal for pregnant mama and babe to get in a wonderful position. Leaning back puts your womb space into a non neutral position and isn't aligning for your body structure. You don't always have to sit like this, I promise. This is just a training period. Imagine you are in training for an ultra womb triathalon!
6. For good driving- in the car, you can add a pillow or use the button to push the lumbar support all the way forward.
7. For happy sleeping positions- with pillows between the legs, so the knees are wide apart pushing that hip socket into a nice aligned position. You can see some cool pregnancy pillows here. ANYONE can use them and benefit! Use a body pillow or make one yourself out of many pillows.
8. For good figure 8's- The way to measure a good proper fitting yoga ball is to sit on the yoga ball with a 90 degree angle behind the knees. You yourself, or with someone standing behind you, move your hips in a figure 8 movement really using your entire lower body to "dance."
9. For good cat cow- get into a hands and knees position on the floor. With your inhale, draw up your spine into an arched cat pose, and on the exhale release and drop the back down into a sway like a cow pushing that belly button down with chest out. Make sure to engage your whole body. This is a wonderful pregnant movement to breathe into.
10. For good pencil-tail movements- get into the same hands and knees position on the floor as the cat cow, now pretend you have a pencil tail poking out of your bum. Draw figure 8's in the air with your pencil really focusing on moving those hips all around. Feel free to play some music and enjoy your body.
11. For good breath work- take your time and feel what it is like to inhale from your belly. Pull that oxygen into your cells, filling all of your body; using the image belly button into your spine with the inhale, and gently releasing it out exhaling all that does not belong to your higher self.
12. For good yoga- use a block for positions that need to be modified. Here is a yoga/pilates mat. I love these yoga pretzel cards. Fun for the whole family!
PELVIC CORE MUSCLES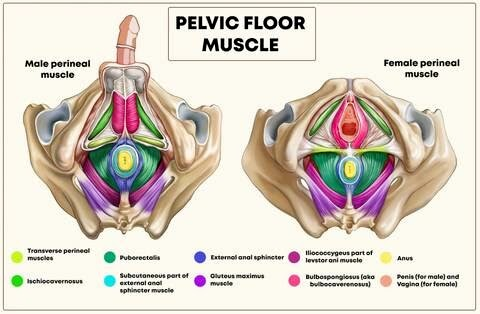 Let's compare both men and women for a moment.
See how similar we are?
When the pregnancy puts pressure on the bladder and the uterus grows to house many pounds of baby, bag of waters, extra blood, and placenta, the rest of the intestines shift, the colon even gets smushed, and all of the mother's entire insides move around to accommodate the growing baby inside! And for good reason! God knows exactly what He is doing.
I know this is a cartoony picture but let's take it bit by bit.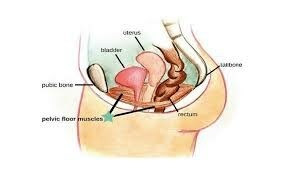 ---If pelvic core muscles get too weak around the colon and rectum, then the rectum and colon can fall forwards into the space in front where the uterus/yoni goes. (and it's hard to poop, or poop leaks out)
---If the pelvic core muscles get too weak around the bladder, then the bladder can fall backwards into the space where the uterus goes. (and it's hard to pee, or pee leaks out)
---If the pelvic core muscles get too weak around the cervix, then the cervix can dip down and not stay up where it is supposed to go. (and it feels like your insides are falling out of you, and sometimes THEY DO! Yes, like all the way out. That is very serious and may require surgery. In very extreme situations surgery is definitely a necessary solution. I 100% recommend always seeing a professional no matter what.)
There are medical terms for things like:
bladder prolapse - cystocele
rectum prolapse - rectocele
cervical prolapse
uterine prolapse
Some symptoms include...
painful sexual intercourse
recurrent UTI (urinary tract infections)
feeling heavy or boggy in your yoni
difficulty eliminating feces/pooping
leaking feces/poop
difficulty urinating/peeing
leaking urine/pee
distended cervix
There are ways to determine how much of a prolapse exists. Some use numbers to grade how far down the prolapse is and how severe it is.
Typically the more children a woman has had the more stretching her muscles will experience, and so it is very important for her to strengthen DURING the pregnancy.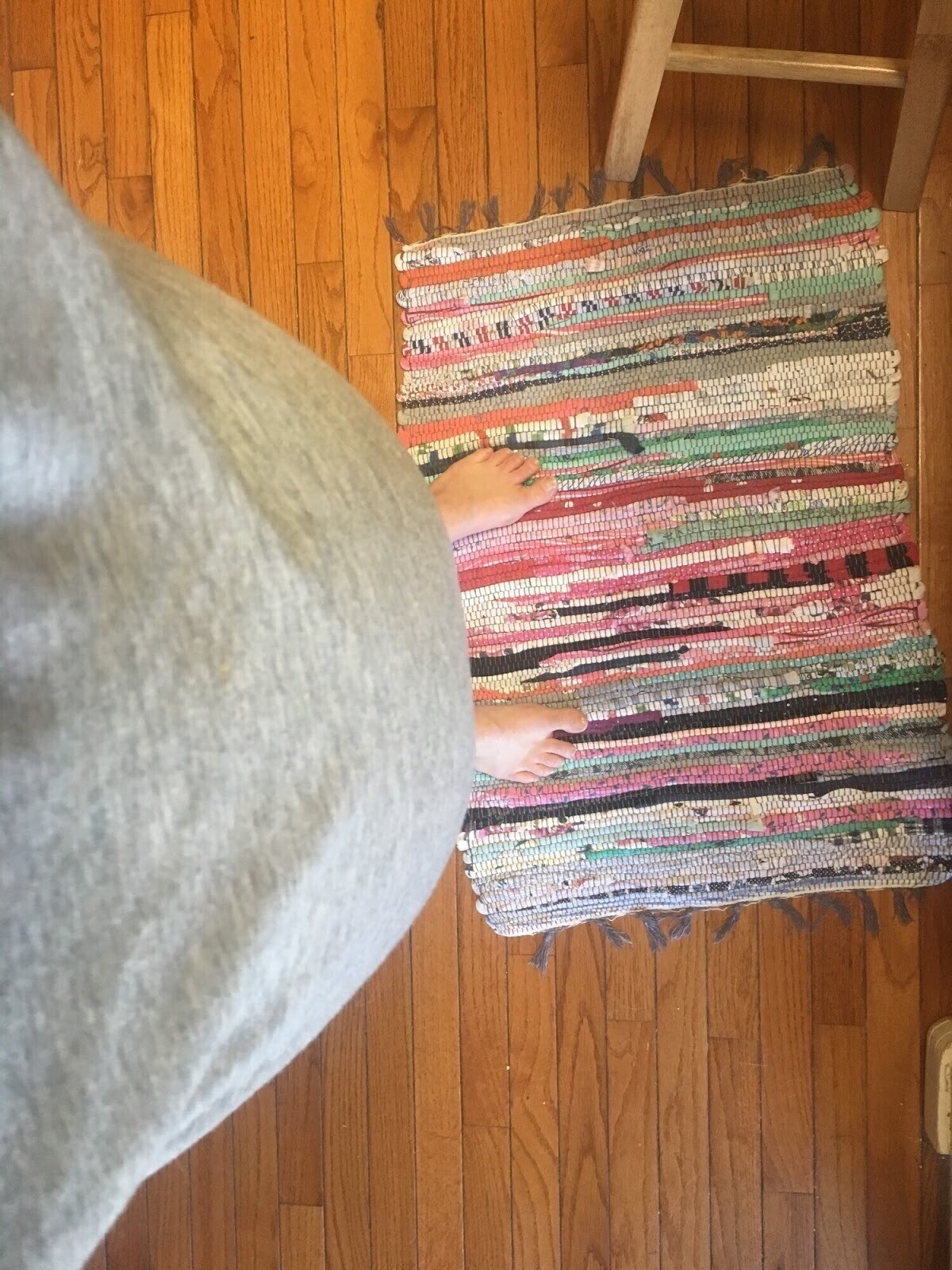 FOOD
The first step to supporting the pelvic womb space is food. Creating a balanced diet with the main helper for strengthening your womb space being collagen, bone broth, and a rich source of healthy minerals, and vitamins.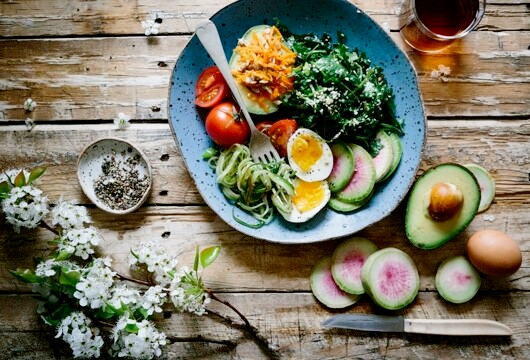 Let's start here with my top 3 favorite things to begin incorporating into your diet.
1. Collagen
2. Bone Broth
3. Miso Soup
Collagen - it is a powder made from the skin of animals. This may throw a few of you for a loop; it certainly does for me and I don't like to eat certain things for many reasons, but this is a hard one and I did it anyways JUST because I really wanted to support my body in every way possible.
Collagen powder is easy to eat, drink, add to foods like oatmeal, healthy chia puddings, juices, and make homemade gelatins with little gummy bear molds, or pop in stews and soups. It hardly tastes like anything when it is in food; yogurt is a good hider, applesauce, orange juice, and a shot glass of it mixed in elderberry syrup has worked for me. Alone, yeah, not so much. It tastes like a paper shoe.
"It's one of the major building blocks of bones, skin, muscles, tendons, and ligaments. Collagen is also found in many other body parts, including blood vessels, corneas, and teeth.
You can think of it as the "glue" that holds all these things together. In fact, the word comes from the Greek word "kólla," which means glue.
BOTTOM LINE:
Collagen is a protein that provides structure to much of your body, including bones, skin, tendons, and ligaments." https://www.healthline.com/nutrition/collagen
Bone Broth
"Some call bone broth meat water. We call it liquid gold.
Since we don't eat bones in their whole form, cooking them into a broth that's simmered for 10 to 20 hours (or more) is the best way to release their powerful nutrients, and experience a whole new level of benefits."
Promote Gut & Digestive Health
Support Joint Mobility
Support Skin, Hair, and Nails
Support Sleep
Can't You Get Collagen From Plants?
No. Plants are a great source of vitamins and minerals that can help stimulate your body to produce its own collagen, but there is no known plant food that offers type II collagen, the form that offers all of the benefits listed above.
One thing to consider about bone broth that sets it apart from plant foods: Even if you do eat a variety of plants that contain collagen-boosting nutrients, if you have a weakened digestive system, you may not fully absorb them. On the other hand, the collagen in bone broth is incredibly easy to absorb, even for those with compromised digestive systems."
https://www.kettleandfire.com/pages/what-is-bone-broth
Let me break these down for you:
Why do I even need to "Promote Gut & Digestive Health?"
- as a pregnant woman is growing a baby, her entire body is moving and stretching and being spread in all directions to be the most amazing vessel for this human life inside.
Having a really good gut and digestive system primed with collagen is setting up the body for what is to come. BIRTH.
Once birth happens, the next journey a mother goes through is the rebirth of her. She is now a mother. Maybe this is her first baby. Maybe this is the fourth. The body is rebuilding all of those important ligaments and joints with new cellular structure and eating really delicious nutrient dense foods will facilitate the structural soundness of her body.
If her body is struggling to digest what she is eating because it is extremely difficult to digest,

like highly processed foods which put a huge burden on the liver and kidneys,

her body isn't focused on making good breastmilk, supporting her brain and nervous system with healthy oxytocin and prolactin,

and instead is taxed by the fatty foods, processed foods, and unhealthy things that are coming down the esophagus to the stomach, small intestine, and large intestine -
slugging everything along.
This also may cause straining while pooping; nobody wants that!
Straining can also be a cause for pelvic womb space dysfunction.